Bombproof wireless handlebar bike light for singletrack
Regular price$245.00
/
Shipping calculated at checkout.
Looking for the ultimate setup? Check out our
Evo Downhill Package!
(Video) Outbound Lighting Trail Evo Review - Is it the BEST mountain bike light on the market???
Behold the Trail Evo. The sum total of our decades of experience designing automotive optics, all neatly wrapped up in the best bike light we have ever engineered.
Featuring a panoramic, perfectly even beam pattern that we fine-tuned the heck out of to meet the demands of trail riding. With a smooth falloff all around you to aid peripheral vision (the beam should fall off, not the biker). With it we created a literal wall of light that illuminates your entire field of view.
A quick-release fiberglass-reinforced nylon mount that we, ahem, "borrowed" from those clever camera guys to keep this bike light pointing in the right direction.
Good for 150+ minutes of strong output and, should you need it, the ability to USB-C quick charge on-the-go.
Proudly and capably made just down the trail in Chicago IL.
What's in the Box:

Trail Evo
Quick-Release Bar Mount
USB-C to USB-A Charge Cable
2.5mm Hex Wrench
Instructions
Runtime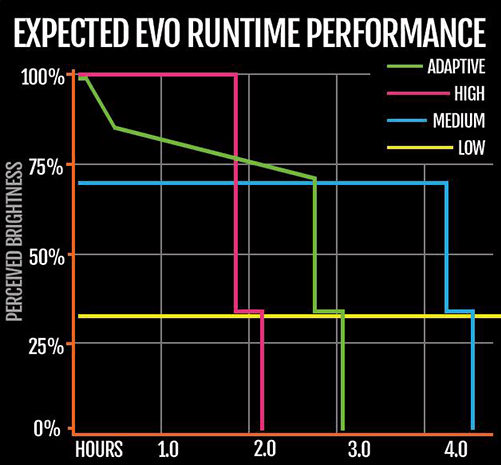 Specs/Instructions
Mounting Location: Handlebars
Application: Singletrack, downhill bombing, long rides off into the sunset

Runtime: 2.5hrs in Adaptive Mode (see runtime chart)
Charging: USB-C with Pass-Thru Charging (0 to 80% in 3 hours)
What's in the Box: Trail Evo, Quick-Release Bar Mount, USB-C to USB-A Charge Cable, 2.5mm Hex Wrench, Instructions
Lumens: Approximately 2100-2200
Weight:

275g + 36g mount
BRIGHT!
The range and depth of light is awesome! This upgrade was worth it.
No Sun? No Problem!
The EVO light is a great addition to any bike whether riding trails or city streets after dark you're going to have no problem seeing what's in front of you. There are many choices out there, but you get what you pay for, you want quality this is your choice, it worth every penny.
Exceeded My Expectations…
I bought the trail evo more on a feeling that this company sincerely cares about it's customers and had confidence in their products. The trail evo is really nice and well built. I bought an extra quick release mount for my road bike. No matter which bike I ride, this light does an awesome job. I thought the color of the light would be whiter but I now like the slight yellow tint. Other riders ahead of me like the less blinding color too. The trail evo is really bright and if I need a high level light on a longer ride, the ability to piggy back a second battery is perfect. I like the two strobe options for my road bike, I use the lower level during the day and the brighter at night. I've had cagers yell over at me at a traffic light, not complaining, asking what F'n brand is that light? The trail evo really exceeded my expectations in all aspects. The quick release is well designed and makes removal for charging or swapping between bikes a breeze. I'm glad that I went with my gut feeling, I'm sure other owners would agree.
One quick story…. I'm testing my new trail evo on my MTB on high on a pitch black mountain trail. My light was so bright that I made the perfect target for a d-bag with a really high power green laser. I get nailed in the face and both eyes. I was blinded for a few seconds and I lost my balance for several minutes. This person also hit several hikers standing near me. I was able to get a video and get a good picture of the approximate house where the laser was coming from. Since the laser strike came from a walking distance away from a small uncontrolled airport, the police were notified and they are aggressively investigating the situation. The Police Officer advised me to use my new light on low till they arrest the individual!
The Bike Lightevolution:
How & why we designed this light
When we launched the Trail Edition back in 2017 it was a game changer for bike lights. A beam pattern specifically designed for mountain bike riding with a wide evenly illuminated distribution. However it required an external battery pack, and we had lots of customers wanting to go wireless.
So we took the best parts of Trail, and evolved it into the Trail Evo. Bringing a long lasting, even brighter, even wider beam pattern to your handlebars, without any external cords.
Read on for more nerdy design details!
Advanced Optical Engineering
When we developed Evo's beam pattern, we knew we could go wider and brighter, so we redefined our illumination goals, target candela points, beam angles, and then went to work simulating, testing, prototyping and developing the most seamless pattern we've built to date.
The extreme width is thanks to the finely tuned blended Total Internal Reflection (TIR) optics. Hundreds of simulations with Lucidshape software let us squish, squeeze, stretch and shape the light to hit that perfect balance of peak brightness, smooth falloff and insane peripheral coverage.
Check the slider comparison below to see the difference between a fine tuned optical instrument such as Trail Evo vs a name-brand light that has been around for years. The difference is staggering in person.
Advanced Optical Engineering
Mind blowing, incredible, and game changing are a few of the words used to describe how seamless and bright the Trail Evo beam pattern is.
Always hard to capture in photos or videos, best experienced in person. You won't regret it.
USB-C Pass-thru Charging
Everyone has USB charging ports all over nowadays, so we make sure you can use any of them with the Trail Evo, including almost all QC 3.0-rated chargers for super fast recharge times.
But we took that concept one step further and added Pass-Thru Charging (PTC) to allow you full access to all output modes of your light while charging from an off-the-shelf USB Power Bank, so that you can extend runtime for those epic adventures, without limiting the light available to you (bikepackers rejoice!).
We even customized the included USB-C cable to seal against the elements when plugged in so you don't need to worry, just ride.
(Video) The NEW Trail Evo from Outbound Lighting Initial Review - Cut the Cable!
USB-C Pass-thru Charging
We were one of the first to offer USB-C charging as standard, except we took it a step further by offering pass-through charging as well.
This lets you plug in any USB power bank and charge the light while in use, in any mode. Game changer for 24 hour races and extra long night rides!
Rock Solid Mounting
A good light isn't so good if
it's bouncing up and down on the bars all the time. That's why we made a bolt-on clamp mount for Evo so it's solidly locked to the bar, With a simple shim it adapts from 35mm to 31.8mm bars and the beam won't shake around like lights with rubber strap mounts do.
We adapted an established
camera tripod mount concept then miniaturized it for slick snap-in installation with a ramped-cam that always takes up the slack as it wears, so you never have a rattly interface, and an easy one-handed quick-release process to pop the Evo off post-ride to charge.
Simple User Interface
Few people read instruction manuals, even fewer want to, so we keep our lights dead simple so that you don't need an advanced degree to remember some complicated sequence of button presses get to the mode you want.
Evo's soft-touch overmolded top shell has a single, large button right in the middle that's easy to feel through a thick winter glove in the dark, with four green indicators to clearly convey mode and battery status without the need for a decoder.
Four simple modes cover the majority of use cases from set-it-and-forget-it pedally XC to long-climb-fast-descent Enduro rides – Adaptive / High / Medium / Low – and no SOS or seizure inducing strobes stuck in between.
Simple User Interface
Few people read instruction manuals, even fewer want to, so we keep our lights dead simple so that you don't need an advanced degree to remember a complicated sequence of button presses get to the mode you want.
Designed & Assembled in Chicago, IL
Skillfully built by our passionate team (and robots) while listening to a lot of podcasts.
Electrifying design
We like to keep our lights simple on the outside for the user, but that doesn't mean we're skimping on the guts inside. The constant-current driver maintains rock solid regulation through the Cree XD16 LEDs over the entire voltage range of the genuine Samsung 21700 cells with a unique battery monitoring algorithm to give you accurate feedback without interruption.
Complete with fast QC 3.0 USB-C charging and Pass-Thru capability to boot, we engineer the electronics to maximize efficiency and runtime while minimizing charge times, all without any proprietary connectors that could leave you stranded.
Electrifying design
Our lights look simple on the outside, but that doesn't mean we're skimping on the guts inside.
Nine genuine Cree XD16 LEDs powered by two genuine Samsung 21700 cells with a unique battery monitoring algorithm to give you reliable and consistent runtime.
Thermal Engineering
LED lights get hot, that's a fact of life. One of our core principles is that we build our lights from the ground up to be able to handle the heat. Trail Evo in particular implements an industry-first pass-through cooling.
It is an incredibly unique feature that is enormously successful in keeping this high power lamp cool even on the hottest desert nights (looking at you Phoenix).
By collecting air through a built-in air scoop under the light, it then channels that cool air through fins that are directly attached to the LED's, and venting out the top of the light.
Thermal Engineering
High power bike lights get hot, that is why we use our engineering prowess to keep them cool.
Utilizing another industry first, we collect air through a scoop underneath the light, and pass it through the light, cooling all nine LED's that are spread apart to balance the heat load.
Industry-Best Customer Support
3 year warranty + Lifetime customer service support backed by a real person. (yes, that's Tom)
(Video) Outbound Trail Evo vs. NiteRider Lumina Max 2500
Let customers speak for us
from 1718 reviews
Detour/ Hangover/Evo light
The Detour light is extremely light, and has a nice wide beam. Impressed by the midway cut off and doesn't blind oncoming cars. I do use this light in tandem with the Outbound Lighting hangover. The detour light I use mainly when I'm riding on roads with car traffic and and use the Outbound Evo light where I'll encounter less car traffic. The Evo is an incredible light as well but tends to blind oncoming cars more than the detour .The detour light is lighter than the Evo but, the Evo appears to be made more rock solid.
All of outbound lights are phenomenal . You just can't go wrong with the quality of care and engineering they've put into them. I have yet to have found another light that can even begin to compare with them. I do a lot of night riding and as I mentioned before, if you use these lights in tandem with the hangover light it's incredible. With the hangover light if you turn your head, the light follows your line of sight. I've seen all kinds of wildlife riding at night from foxes to deer, to an owl that flew over my head!
Detour headlight worked as described
Used the Detour headlight for the first time last Saturday at the Grava Del Fuego gravel ride in Wichita Falls, TX. The light stayed securely attached to handlebar mount despite some rough sections of road. The light worked properly in the dark and the different settings operated properly. Electronic components and physical mount appear to be durable enough for rough gravel roads. Satisfied customer.
Incredible light a must have for night riders
This light is absolutely incredible and a must for night riders so you don't blind cars or other cyclists/ pedestrians. I pair this light with a niterider lumina as well that I use for a high beam on the trails but when on the road it's detour all the way! 1 pic is just detour "low beam" and the 2nd one is with the detour and niterider together as my "high beam" setup
Love it
It lights shit up!
I purchased these lights because of recommendation from others. I have ridden 5 night rides so far. The helmet and handlebar combination has so far been excellent regarding visibility, probably more than I expected. The devices feel very well built. The mounts feel very secure and stable, minimal to no bounce from the handlebar light. Battery life on adaptive mode has been good. I have been recommending this combo to friends and everyone who asks
Sweet
This company has really amped up the MTB lighting game.
Quick Release Handlebar Mount
Fantastic front light
I've attached my light to a solar rechargeable power bank. It works well and has yet to run out of power. Really a good light at night.
Very happy that I made the purchase.
Outbound Lighting
Great roadie light, love the way you can adjust so the rider sees all the road but does not blind incoming traffic! Great design, love USB C and the compact all in one unit!
Detour Bike Light
(Video) OUTBOUND LIGHTING | trail evo & hangover UNBOXING/Testing
Awesome lights and customer service!
Quick Release Handlebar Mount
Awesome headlamp
An excellent headlamp; very bright, with superb beam pattern. USB C charging is great for extended tours, allowing easy charging from power banks or solar array, & passthough charging permits operation off an external power source while the internal battery is charging. I would like to see more mounting options, including a simple mount for 7/8" handlebar stock without need for shims, but that's a relatively easy fix.
Well done!!
Pardon my English as I am non-native English speaker - I'll try my best. The bicycle lamp is very well made. The two reflectors complement each other very well, one of which projects diffused light and the other focused light. Three light levels illuminate the road very well. The lowest or darkest mode in combination with my built-in bicycle lamp (200 stVzo lumens) is sufficient. Medium, in fact, I could use alone at night without my additional lamp. The brightest mode is some (understandably) 25-30% darker than the car's LED headlight, but it is fully sufficient when it is a bicycle light due to lower bike's speeds. Finally for super long high beam I use my regular 1100 lumens flashlight thrower installed as an addition on my handlebar. When all lights work at once, I have a regular high beam on a bicycle comparable to the full brightness of a normal car! My only objection is lack of continuous indicator of the current level of light intensity, which could be done by introducing an additional diode emitting different colors depending on the selected mode/level, but this is a cosmetic thing which does not affect the work of the lamp's as such. The cut template of light beam fits well and guarantees no blinding on oncoming cars traffic or pedestrians. Maybe another cosmetic change I would like to see would be a different on/off switch, not soft as it is now but rather something that would provide more obvious heptic feedback. In night it does not give me an obvious feeling when touching it through glove. If anything, the on/off button should be illuminated from the inside (the same as now I have ilumminated current level of battery) so that the cyclist can easily find it. During the daytime I usually use a strobe light which the lamp delivers well. The last very positive thing is the mount of the light to the bicycle handlebar. The solution used allows you to easily detach it when leaving bike unattended for instance. Maybe least useful for my riding style is night pulse, which I guess is great when you ride in city's heavily populated by road traffic in the night keeping drivers' attention of your presence. In general I'd love to have light 20-25% brighter then this one (that would eliminate for me having my additional lights on bike), but that would probably introduce another higher cost due to much bulkier battery need, and different maybe diodes of reflectors' alone.. So as a necessary trade off setups I think this product is very adequate, especially when I was shopping for it I kept in my mind fact that it will work in conjunction with my already two other existing installed lights.. Another words I knew what I wanted from very beginning how it will be setup, and what it will work in conjunction with... wanted from very beginning. I am picky, and maybe over sensitive, but at the same time I think light alone would fit 95% of cyclists biking habits / riding styles, being used as standing alone product, I'm sure. I would like to thank the Engineers, wishing them further success!
So I gave this light 5 stars with a small "but"
Quit being nosey at the "but" part but I'll mention it later.
This light was definitely worth the wait. It was supposed to have been out since OCT 21' but just got released here in August. Technically I should have been the first to review it but I like to tinker and play with things before I speak on them. So I have been using this light since day one. I use It for my 50 and 60mph electric scooters to my gravel bike.
One thing that stood out to me when I first put my hands on this light was it's light weight. Then the feel of the body of the light (grippy rubbery feel). The combination got me alittle excited I aint even going to lie. It comes with the mount for your handlebars which is actually pretty good (I did have to buy some grippy flexible rubber to place over the handlebar of one of my electric scooters in order for the handlebar mount to hold good and not move at all) which is fine so if you plan on using this light and it's supplied mount with an electric scooter, you may need to get some flexible flat rubber from your convenience store or something so the mount can wrap around your handlebar better. Something like this, then cut to size:
Silicone Rubber Sheet,Resist Heat Heavy Duty High Grade 60A,12 by 12 inch Gaskets DIY Material ,Suitable for Pipeline, Supports, Pads, Seals, Bumpers, Protection,Abrasion… (1/25) https://a.co/d/ee0RWLI
The longest runtime I put it through was during a gravel bike ride from northern Las Vegas to the strip. I think it took me round trip about 2hr16mins and in that time it used about half battery in nighttime strobe mode which I thought was very good.
Effectively this light gave me useable light as high as 35mph on a dark bike trail in north Denver, CO. No one was blinded and I was able to see very well dead smack in the middle out front of me, and to the sides. I really like how light this light is when it comes to weight.
The light output is actually almost perfect. Could it be brighter? Sure... Maybe alittle brighter while still maintaining that nice beam cutoff.
Something I've noticed that you will see in my comparison pics is the shadows off to the lower left and right of the center beam. On a bike path, that area is what I need to see my rabbits and racoons in some cases. It's a blind spot that maybe could be improved on with a 2.0 model (even though this is sorta a 2.0 version already).
One final thing which is the one thing I told you to quit being nosey about and that would be something I wish you guys at OBL would maybe make for a 2.0 version and that's a Bluetooth remote for this light. (Even for the trail evo).
Give it one button that would work all of the functions the normal button on both lights do and then make a button that will work as a high beam if you need to flash it or need a "over boost brightness" button that can only be achieved by hitting that high beam button. You release the button, the light either turns back off or reverts back to whatever light mode you were already using before hitting the high beam button..
If you are a wierdo in a sense where you want it all and can't look at things as being what they are, this isn't the light for you. It isn't a magic shine 8000. For the price you pay with this sorta design and ruggedness, you won't find a batter light. This brand is one of those brands where advertised lumens doesn't matter. It's how well they are built and designed, and how well they operate and they do both well......daam well. Bottom mention their customer service is beast mode all day long.
In my pictures I have the Detour and the trail evo being shown just for comparisons. I don't like advertising my stuff but my username on here is my YouTube name if you want to see those two comparisons in a breif video format. Thanks for reading ya bum and shoutouts to OBL for the super cool light. I legit can't wait to see the 2.0 versions for both lights. I've been saving up for this Detour and have already started saving up for the revised versions.
BEST LIGHT EVER!!!!
What an amazing light. I love the C port for charging. Much better than a B port. Took five rides to drain the power down to 1/4. My next four rides have used only half of the charge. The various settings are awesome and I love the strobe. I ride early mornings and have to be visible. This light is as close to perfect as anything on the market today. It mounts easy, love the quick removal and yet it is solid. Amazing light with no drawbacks. If you aren't riding with this light, you are riding in the dark.
Initial use
I purchased the Detour light for night gravel riding, touring and every day commuting. So far, I can say mounted on my handlebars I don't notice it as added weight at all. Works great for foggy day road riding. Looking forward to trying it out on night adventures.
Perfect light for my nighttime adventures!
I received my Detour light 4 days before a 1200k brevet. My usual night setup is a Light&Motion Seca 2500 with an external battery and a small Planet Blaze (2AA battery) as a backup. I have done many 24hr races and brevets with this setup but I have always been unhappy with the weight of the external battery. I decided to ditch the Planet Blaze and use the Detour as my backup light. The first night I tried out the Detour and I'm totally impressed— I have found the perfect light for my nighttime adventures! I rode until 1am using the adaptive mode and was down to 1 green dot of power after 4 hrs of riding. The next night I continued using the adaptive mode but I tried past thru charging via a RavPower 15000mAh power bank starting as soon as I turned the light on. After 4 hrs there were still 4 green lights on and I had more than 50% of power left in the Power Bank, clearly it will be perfect for my 24hr events and more. The adaptive mode as well as the medium mode provide all the light I need. The light cutoff pattern was an unexpected plus in that I did not have any temporary blindness from a single car blinking their bright lights at me. The mount is bombproof! I did make an additional rubber shim to make it fit my lightbar, but I had no slippage at all. At $179 this light is a true bargain and worth so much more. I will be buying another and ditching my Seca.
Quick Release Handlebar Mount $18.00
Hangover Bike Helmet Light $125.00
(Video) Outbound Lighting Hangover and Trail EVO
',e&&(t.id=e,t[E](ce,"st-link-"+e)),t},Se=function(e,t){for(var n=e.length-1;0<=n;n--)e[n][E](_,"-1");t[E](_,"0")},Be=function(e,t,n){if(e&&t){for(var o=e.length-1;0<=o;o--)"st-link-"+n!==e[o].id&&(v(e[o],y),r(e[o],w)&&m(e[o],w,p),r(e[o],k)&&m(e[o],k,p));for(o=t.length-1;0<=o;o--)"st-"+n!==t[o].id&&(v(t[o],y),m(t[o],se,de))}},je=function(n,o){V.full_scroll_sync_enabled&&(cancelAnimationFrame(Ie),Ie=requestAnimationFrame(function e(){var t=o[be]().top-n;t<0&&window.scrollBy(0,t),Ie=requestAnimationFrame(e)}))},T=function(e,t){var n,o,a,i,r,s,c,l,u,d;e&&(t=I({animate:!0,deepLink:V.deep_links},t),(e=$.getTab(e))&&(n=e.id,o=e.link,a=e.content,i=(c=e.wrapper)[F]("."+O),r=S(c,b),s=c[F]("."+O+"."+y),c=c[F]("."+R+"."+y),(l=t.scrollIntoView)&&(u={behavior:"smooth",block:"center"},d=C(l)?I(u,l):u,setTimeout(function(){o.scrollIntoView(d)})),S(o,y)?r?(t.animate&&xe([a]),setTimeout(function(){Be([o],[a])},20),t.deepLink&&history.replaceState(null,document.title,window.location.pathname+window.location.search)):Be(s,c,n):(r?V.full_single_active&&(t.animate&&(xe(c),t.scrollIntoView||(je(o[be]().top,o),setTimeout(function(){cancelAnimationFrame(Ie)},400))),Be(s,c)):(Be(s,c),Se(i,o)),m(o,r?k:w,de),t.animate&&r&&xe([a]),g(o,y),g(a,y),a[E](se,p),t.deepLink&&history.replaceState(null,document.title,e.hash),t.skipCallback||($.trigger("open",e),document.dispatchEvent(new CustomEvent("stationTabOpen",{detail:e})),r&&t.animate||document.dispatchEvent(new CustomEvent("stationTabOpened",{detail:e}))))))},De=function(e){var t,n;e&&(t=window.location.hash,n={deepLink:!1,animate:!1,skipCallback:!0},(t=K(e.links,t))&&V.deep_links?T(t,n):V.full_open&&T(e.links[0],n))},He=function(e,t,n,o,a){var i,r;t&&(i=e[F]("."+O),r=t[z]("."+O),t=t[z]("."+R),r=r.cloneNode(!0),t=t.cloneNode(!0),n=Ce(Le(r.textContent.trim()),n,o),r.id="st-link-"+n,r.href="#"+n,t.id="st-"+n,o=i[a-1],a&&o?(e.insertBefore(r,o),e.insertBefore(t,o)):(e[M](r),e[M](t)))},window[c]("resize",function(e){Ee&&clearTimeout(Ee),Ee=setTimeout(function(){if(Te!==x()){for(var e=$.getInstances(),t=0;t
x();break;default:v(c,b);var f=r[0].offsetHeight/2,p=r[0][be](),u=r[r.length-1][be]().top-p.top>f}u?(g(c,b),r.forEach(function(e){m(e,_,"0"),U(e,ue),U(e,w)}),s.forEach(function(e){m(e,ue,"region")}),d&&J(d)):(l=void 0,v(c,b),d||(d=ae.createElement("div"),c.prepend(d)),l=Array.from(r).map(function(e){return e.id}),m(d,"role","tablist"),m(d,"aria-owns",l.join(" ")),r.forEach(function(e){m(e,ue,"tab"),U(e,k)}),s.forEach(function(e){m(e,ue,"tabpanel")}),(d=window.location.hash).length&&V.deep_links&&((l=K(r,d))&&(a=[l])),a=[a[0]||r[0]]),a.length&&(Be(r,s),a.forEach(function(e){T(e,{deepLink:!1,animate:!1,skipCallback:!0})}))}}},$.fetchDataByProduct=function(e,t,n){var o,a=n||function(){};function i(){if(200!==this.status)return e="Undefined error",404===this.status&&(e="Product not found"),void a(null,new Error(e));var e=this.responseText.match(/([\s\S]*?)/)[1],t=(s(),document[me]("div"));e&&(t.innerHTML=e),a(t)}function r(e){s(),a(null,e)}function s(){o.removeEventListener("load",i),o.removeEventListener("error",r)}L(t)&&(a=t),A(e)?(n=window.location.origin+"/products/"+e,(o=new XMLHttpRequest)[c]("load",i),o[c]("error",r),o.open("GET",n),o.send()):a(null,new Error("Handle is not valid"))},$.getInstances=function(e){var t=document[F]("div["+s+"]");return!t.length||!n in t[0]?!h(e)&&[]:h(e)?t[e]||!1:t},$.getInstance=function(e){var t=e;if((e||{}).instance)return e;if(!(t=e&&!h(e)?t:$.getInstances(e||0)))return!1;e={instance:t,initialized:S(t,re),wrapper:null,links:[],panels:[]};return e.initialized&&(e.wrapper=t[z]("."+H),e.links=e.wrapper[F]("."+O),e.panels=e.wrapper[F]("."+R)),e},$.getTab=function(e){var t=A(e)?{id:e}:e;if(!e)return f(ve+' "tab" is not defined.'),!1;if(t.slug)return t;var e='Tab with ID "'+t.id+'" is not found.',t=l(t.id),n=document[ye](H+"-"+t.scope);if(!n)return G(e);var o=document[ye]("st-link-"+t.id),a=document[ye]("st-"+t.id);return o&&a?{id:t.id,instance:n.parentElement,wrapper:n,link:o,content:a,instanceIndex:t.scope,tabIndex:t.index,suffix:t.suffix,vanityId:t.vanityId,hash:t.hash}:G(e)},$.getTabByTitle=function(e,t){var n,t="undefined"!==t?$.getInstance(t).links:document[F]("."+H+" ."+O);if(t&&t.length)return n=Le(e),t=K(t,n,{key:"slug"}),t?$.getTab(t):(console.warn("Tab with title %s is not found",e),!1)},$.moveTab=function(e,t,n){n=I({after:!1},n);if(!e||!t)return f(ve+" "+(e?'"position"':'"tab"'));var o,e=$.getTab(e),a=t,t=(e.instance[ke]("beforeend",e.link),h(t)&&(t>(o=e.wrapper[F]("."+O)).length&&(n.after=!0),a=o[Math.max(0,Math.min(t-1,o.length-1))]),$.getTab(a));return n.after?(t.content[ke](pe,e.link),e.link[ke](pe,e.content)):(t.link[ke](fe,e.content),e.content[ke](fe,e.link)),$.setLayout(),e},$.moveInstance=function(e,t,n){n=I({position:"beforeend"},n),t=A(t)?j(t):t,e=$.getInstance(e).instance;if(!e||!t)return e;for(var o=e.cloneNode(!1),a=(X(t,o,n.position),U(e,s),e.childNodes),i=null,r=0;r div:last-child:empty {display: none "+t+";}")},galleria:function(){var e=".product-page-row";o([e+" .desktop-flex-wrapper",e+" .product-item-wrap",e+" .product-gallery-product-template"].join(", ")+"{position:relative "+t+";height:auto "+t+";}")},narrative:function(){o(".product__form-wrapper{position:relative "+t+";top:initial "+t+";}")},prestige:function(){var e=new ResizeObserver(function(e){var e=e[0].target,t=e.closest(".Product__Wrapper"),n=parseInt(getComputedStyle(e).paddingTop,10)||0;t.style.minHeight=e.offsetHeight-n+"px"}),t=document.querySelector(".Product__Info");t.querySelector("[data-station-tabs-app]")&&e.observe(t)},warehouse:function(){var e="expandable-content",t=document[z](".product-block-list__item--description ."+e);t&&t[z]("div["+s+"]")&&(v(t,e),v(t,e+"--expandable"))}},(e=V.polyfill)||window.document.documentMode?((Oe=document.createElement("script")).src=A(e)?e:"https://polyfill.io/v3/polyfill.min.js?features="+["default","NodeList.prototype.forEach","NodeList.prototype.%40%40iterator","fetch"].join("%2C"),Oe.onload=function(){oe()},Oe.onerror=function(){oe(new Error("Failed to load script "+src))},document.head.appendChild(Oe)):oe(); })();